---
"Our family met Frank and his team in May of 2015. We were relocating from out of state, he assisted us with getting our rental home quickly and efficiently! We have been tenants of Sand to Sea properties for over two years now. Any issues/questions we have had, have always been answered and taken care of promptly with the best service. We absolutely recommend Frank and Sand to Sea Properties, not only because they are professional and proficient, but also because they are genuinely a wonderful group of people!"
--Jennifer S., Murrieta


"I have known Frank and Lisa Delzompo for over 5 years. I have rented two properties from Frank as he was the property manager for the home owners which is Sand to Sea Property. In 2012 Frank took a chance on me and my credit and decided to allow me to rent my first home. I was in the military for 9 1/2 years, Navy to be exact. Frank decided to give a fellow service member a chance since no one else did. I walked into Franks office in 2012 with bad to no credit and a dream that my daughter would have a yard to play in and ride her bike down the street instead of in an apartment complex. Frank looked me dead in my eyes and said DO NOT MAKE ME REGRET THIS. I was not going to let Frank down, before i left his office i said that i wanted to buy a home and he said he would do anything to help me accomplish that goal. Every 1st of the month rent was due and every first of the month Frank received a cashiers check for rent in an envelope that said my name, property address, phone number, email, and in all capital letters CONTACT ME ONCE RECVD. That was my process and Frank was awesome at sending me an email either same day or a few days later RENT RECIEVED. There were a few times that Frank took a few days to respond that he had received my rent payment and i would blow up his phone worried and nervous because i was not going to let him down and did he get the check i left it with his front office. That process went on for a year in that particular home. My daughter wanted a home with a swimming pool so i enlisted Franks help and guidance again as i had done before. Within a few weeks Frank found me a rental that he was property manager for and it was perfect. 4 bedrooms, 2 1/2 baths, huge kitchen area, high ceilings, upstairs and down, 3 car garage and a POOL, a very very large POOL. Perfect, everything that i could want for my daughter, but one thing was missing, my name was not on the Deed of Trust as owner. The first rent payment was due 2014 April and like clock work i submitted my payment with instructions on the envelope. Frank and i decided that with the amount of rent i was paying that i should own my own home and that he would NOT rent me another home i would be BUYING this time. I worked hand in hand with Frank and Lisa for the 1st year but it became to stressful trying to fix my credit and attend school full time and work full time and be a single mom with a daughter who was very active in sports. I told Lisa and Frank that i would get back to them when i was truly ready to get my life together. Frank has been like a uncle to me through the years that i have known him and he has NEVER steered me wrong with all his knowledge and guidance. I graduated from college June 2015 with honors. November 2015 I called Frank and said i was ready to buy and i would not be signing a lease for another year come April 2016 i would be doing month to month. Lisa immediately contacted me and we went to work on my credit and every other aspect of my life that needed fine tuning so i could buy my first home. Credit was better, life was better, and now it was time to look for homes. Frank took me out a few Saturdays and Sundays with a list of homes to view. I had special needs and Frank did a great job looking for what i needed. I put in my first offer on a home i fell in love with. Frank warned me do not fall in love with the home until the offer is accepted. I didnt listen and they never responded to my offer. Frank and i went out a few more times with a list of homes to view. There was a home in Wildomar that had just come on the market and it was on our list. Viewed the home on 3 separate occasions and then put an offer in June 2016. They counted the offer, Frank had said they would, he counted back for me and they took the offer. I purchased my first home, keys in hand August 1st 2016. FRANK DID EVERYTHING ASKED OF HIM AND EVEN MORE..... If i had to do all of this over again, i would do it the exact same way and Frank would be my realtor. Thank you Frank and Lisa for all the love and the compassion that you shown provided to my family throughout the years. I love you guys and thanks for selling me my first home! GO NAVY!!!!!!!!"
--Jamie, James, and Jemia S., U.S. Navy, Wildomar
---
"When I had to move, I only knew to find an excellent real estate company. Family and friends told me: "lighten up, it's just another company." or "they're all the same". They don't understand the numerous calls and emails, the distance traveled and the time spent. Many hours have passed and my only company was "just being with Frank or Lisa". I saw first-hand how you both go beyond the call of duty. So, the next time, you hear the phrase "just another agent" or loan officer, just smile, because THEY "just don't understand". You're the best! Sincerely and Semper Fi,"
--Cristina B., USMC, Murrieta
---
"We began working with Frank in 2009 when we got to California....For the first batch of offers that we put in, Frank had us come to his office and he explained in great detail the process of how to look at comparable sales in the area to try to estimate what a house might appraise for in order to get an idea of what to offer. Needless to say, we found a house and got our offer through. We lived in the house for about 4 years before we moved out of California. Prior to moving we approached Frank to see if he would be interested in handling the property management in our absence. He gladly took on the task and did it commendably until we decided we were ready to sell the property. Once again, we asked Frank to be our realtor in selling the property, he accepted. The property needed some polishing prior to listing and Frank coordinated everything for us. A few weeks after the tenants turned the property over to Frank, he had it ready to put on the market. Our confidence level was very high based on our experience with Frank as our buying realtor. A few weeks after it was on the market, and one offer that fell through due to the buyer, Frank had a solid offer. A few weeks later we closed. If circumstances move us back in to an area that we could use Frank as our realtor, he would be our first stop in looking for a house."
--Bill & Sandy C., USMC, Temecula
"We moved in over the weekend, and we absolutely love our home!!! and the dogs are also in hog heaven. Frank Delzompo helped us rent and buy a home! He rented to us for a year, and runs a professional and responsive property management company. When we said we wanted to buy, Frank figured out our unique needs in a property and coordinated a dozen showings over a ~20mile radius in one day. We made an offer that day and haven't looked back. Lisa (Frank's wife) assisted us with our loan and smoothed over all the details - not to mention she got us an *excellent* rate and quote. Not once did we feel pressured. We could not be happier with the service we received and highly recommend Frank and Lisa."
--Paige & Tyler B. (and Bam the dog), U.S. Navy, Fallbrook
---
"I have been working with Frank for over 7 years. During that time he was the property manager of my house in Temecula. When it came time to sell my house, Frank took care of my house, found a buyer QUICKLY, and the house was sold in no time. The whole time I was living in another state. By hiring Frank, it was the best decision I have ever made in terms of real estate. Highly recommend him for any real estate matters."
--Jakub B., USMC, Temecula

---
"We were very fortunate to find Frank. We rented out our home for a couple years while we had to move across the country. We were concerned with being able to manage any issues from that far away, but mostly we we were worried that that our house would be taken care of since we would be returning to live in it. Frank gave us complete comfort that everything was taken care of. We'd absolutely use him again if needed."
--Scott L., U.S. Navy, Oceanside
---
"We loved working with Frank. It took us a long time to find the right house for us, but Frank stuck by us every step of the way. He never rushed or pressured us into anything and always had our best interests at heart. Frank is also professional and very knowledgeable about the area and helped us find the perfect home. I would highly recommend him to anyone looking for a new home."
--Antonio & Korrin P., USAF, Murrieta
---
"Frank did an excellent job of putting together a complicated deal that took a significant amount of time. Additionally, he provided sound advice at critical points during this process. His level of conscientiousness is stellar. Frank is trustworthy, reliable, organized, and dependable, which is why we are impressed with his services."
--Mark & Alisha S., USMC, San Diego
---
"Frank Delzompo has been the most honest, hard working business man I have ever experienced! His service has been above and beyond normal service. I will recommend him for anyone looking to sell or rent their home."
--Cathy G., Murrieta



---
"Frank was our property manager for about 8 years. He took care of everything. We didn't have to do a thing. Then when we decided to sell we had offers in about 2 days. Frank once again took care of everything. The sale went so fast and easy all because of him. Thank You!"
--Diane D., Murrieta
---
"Frank has been there, first as my property manager than as my Realtor. His skills as a property manager were exceptional so I knew when it came to selling my house, he would be equally as great. He did not disappoint. I would not only recommend him to anyone asking but I would highly recommend his services to my family and friends. Thanks Frank!"
--Kim N., Oceanside
---
"We just bought our second home through Frank and I have to say he is one of the best Realtors out there. Very knowledgeable and trust worthy. He gets to the point and gets the ball rolling. We will definitely be doing future business with Frank!"
--Jordan & Ashley G., USMC, Lake Elsinore & 29 Palms
---
"I had heard horror stories about renting. From the first day I spoke to Frank, he has provided great service and made renting my house EASY! I highly recommend Frank if you want to rent your property or looking for a home to rent."
--Jeff W, USMC, Temecula
---
"Frank was a lifesaver as we changed property managers a couple of years ago. He has been on time and accurate, exceeding our expectations as property manager. A retired Marine Officer, Frank has our highest recommendation."
--John M., USMC, 29 Palms



---
"Frank helped us in the recent sell of our house that he also assisted us with when we purchased it 8 years ago. He went above and beyond once again with his service. He took care of the home and made sure everything was perfect while we had already moved out of state. He made sure the process was as smooth as possible and kept us informed at all times. He responds quickly, pays attention to detail, and has your best interest at heart. We have used Frank as our Realtor twice now and both times have been very pleased."
--Michael & Ashlyn S., USMC, Temecula
---
"Frank Delzompo is your Man for top notch customer service! My wife and I recently relocated from out of state and Frank assisted us with finding a rental property. Knowing we were limited on time, he cleared his schedule and spent an entire day showing us properties, including some that were not part of his personal inventory. Once we found a property he graciously handled much of the leg work on our behalf as we were still out of state, including inspecting the property and conducting a final walk through with the homeowner. His willingness to help us gave us great peace of mind during our move. I would definitely recommend his services as you would be hard pressed to find better customer service!"
--Mitch G., Murrieta
---
"Frank Delzompo is an outstanding and professional Realtor. My husband and I have requested his services with our first and second home - both properties sold in less than one month after listing it through him! Our experience working with Frank has been absolutely great, even when we purchased our second home with his help while living overseas. We highly recommend Mr. Delzompo for all your real estate needs. Including real estate loans and help with managing your rental property. Thank you Frank for all your help. You are the best!!!"
--Frank & Susie P., USMC, Temecula
---
"Frank was very professional! As first time home buyers, Frank was able to guide me and my wife through the process and take time to explain every step along the way. Frank was also very available to take time out of his day to look at homes in our search area! We have already recommended him to our friends and family!"
--Ben & Heather R., Escondido
---
"Frank was my property manager for three years. During this time I had nothing to worry about my property because I knew Frank was on it. When it came to sell, he was instrumental in the process. His experience and knowledge of the Murrieta area are unmatched. His aggressiveness in the market is what truly sets him apart from the rest. I highly recommend Frank for property management and for Real Estate needs."
--Hersson G., USMC, Murrieta

---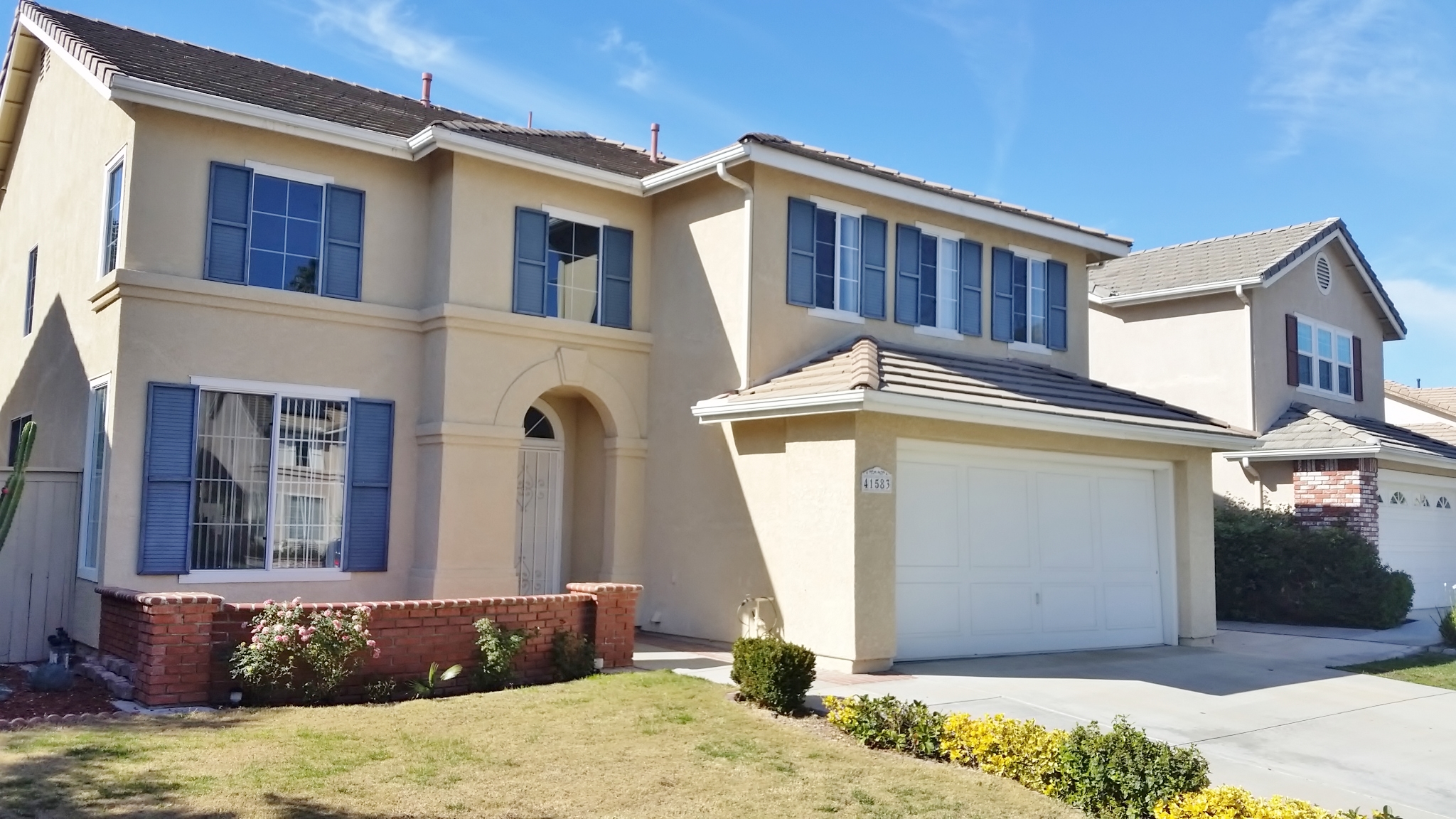 "I've had the pleasure of knowing Frank for 12 years and knew of his tenacity for excellence in the representation of his clients from his clients themselves, and by occupying an office next to his. Therefore, when the time came for my wife and me to sell, it was not a hard decision to choose Frank to help us sell our house; and we got to see that same tenacity at work for us. From start to finish, Frank covered all the bases and we couldn't be more thrilled."
--Hyrum W., Murrieta

---
"Frank's greatest asset is his character. His integrity, moral ethic, and patience for first time buyers and VA Home Loan applicants provided a very pleasant experience. He stayed connected throughout the entire process, despite the short-sale timeline of 6 months. He also ensured that my wife and I thoroughly understood every step of the process. He was willing to work with us and the seller with an unbiased poise and was sure to be fair to both, the buyer and seller. I would recommend Frank to my most intimate of friends and my closest family."
--Guillermo F., USMC, 29 Palms

---
"Frank helped my wife and me find and buy our home in Murrieta, then sold it for us six years later. His knowledge of the market and potential buyer expectations helped us receive top dollar for our home. Frank made the process seem simple and closed our sale quickly. A pleasure to work with, top notch service from an outstanding realtor. We will use Frank and his team for any future realty needs. Many thanks to Frank and the Sand to Sea team!"
--Jerry P., USMC, Murrieta

---
"Frank did an excellent job of quickly responding to all inquiries or he texted he would get back to me and did. Frank is attentive to what we wanted in our home and asks many questions while showing homes. Frank is direct and very honest. Ultimately we bought a beautiful home in a great neighborhood."
--Doug W., Temecula

---
"Sand to Sea Properties, Inc. provided stellar customer service from beginning to end. Throughout the entire process Frank and Lisa guided us and were always available to answer any question or concern, and were prepared for any curve ball throughout the home buying process. Their expertise in real estate became such a comfort to know we were working with top notch individuals who were not just incredible at what they do, but also enjoyable to be around. We highly recommend Sand to Sea Properties for your home buying or rental needs."
--Rachel S., USMC, Oceanside
"My wife and I are thoroughly impressed at the tenacity and dedication that Frank and Lisa provided in their service as a realtor/broker team. Always accessible, honest, no nonsense and absolutely true professionals. A great team that I recommend with the utmost enthusiasm."
--Chris S., USMC, Oceanside

---
"Frank was great every step of the process when first buying and again selling our home. He was available when we had questions or concerns and always guided us through the process on what to expect. He is a fantastic realtor and resource for anyone looking to buy or sell."
--Kim J., USMC, Oceanside

---
"Frank was always readily available to answer any questions or concerns that we may have had throughout the course of the sale of our family home. I would highly recommend Frank and his company to anyone seeking a reliable real estate professional."
--Theresa G., Torrance

---
"Frank helped find me a great condo in Oceanside and now manages that property for me. Even now, almost 10 years later, he provides consistently sound advice on managing that property. He is a true professional, and an extraordinary talent in his field. Should I ever relocate to CA, I would ask Frank to find me a home."
--Nick M., USMC, Oceanside





---
"Frank Delzompo is professional, knowledgeable, and personable. We moved to California on military orders. Frank got us into a rental home while we searched for a house to buy. As first time home buyers, Frank helped us through the process and explained everything in detail. When the military moved us away, Frank also helped us sell our home with great results. I would recommend Frank and Sand to Sea Properties to anyone looking for a great realtor and home buying/selling experience."
--Barrett D., USMC, Temecula
"We met Frank in 2011 when we moved to California. We are a military family and had to set up a rental home in Temecula for our move from Florida. We were impressed from the start with Frank's professionalism. A former Marine himself, Frank understood our concern with renting sight unseen and assured us that the house would be a perfect fit for us. We were very happy with our new rental home and Frank was there at every turn to guide us through whatever questions we had. We have come to think of Frank as a friend and when it was time for us to purchase our first home in California, Frank was an obvious choice to guide us through the process. A true professional and friend, you will be hard pressed to find a better person to assist you in your real estate needs."
--Angelle D., USMC, Temecula

---
"I knew we were in good hands when someone asked me who made our professional video and excellent presentation on the MLS. Frank and his associates really know what they're doing, and we were very comfortable with every step of the process. Frank not only made our property shine, he answered all our questions and before we knew it, we had a SOLD sign on our home, even in a market that other realtors told us was 'soft.' Highly recommend!"
--Bev S., USAF, Temecula

---
"I would recommend Frank hands down any day of the week! When I bought my house 3 years ago I found Frank by accident, and the most thing that I appreciated right away was that he was upfront and brutally honest with me about my situation. He went out of his way on the weekends, working around our schedules to help us find our dream home. 3 years later when we had to sell our house due to a military move, Frank was there again to help hold our hands and see us through way too many phone calls, emails and meetings ensuring that we got a good price for our home. He even arranged for landscaping services/yard work to ensure that everything got taken care of once we moved out, along with organizing a cleaner to finish the house off and get everything ready helping to reduce the stress load of moving. Doesn't matter the time of day, or the day of the week Frank will help you out and is quite reassuring when trying to juggle multiple offers helping to determine what is the best avenue of approach. Overall Frank and his wife Lisa are AWESOME!"
--Jeff F., USN, Murrieta

---
"Frank was an incredible real estate agent! He was available any time I needed him and was very knowledgeable about the market in Murrieta/Temecula. With me being a first-time home buyer, I felt very uninformed about the process when first starting out, but Frank really made sure to walk me through every step of the process and made sure that I was educated and comfortable with everything. He also has legal experience which can be a real help when dealing with other agents and sellers! One specific point that I'm very grateful to Frank for, he made sure to be present when I was signing the final mortgage paperwork. He read all the paperwork as I signed them and caught an error that I did not. This error would have had me pay more money into my escrow per month than I needed to, which would have taken me at least a year to get back. Him catching that error was definitely appreciated. I cannot recommend him enough! "Update 2015- I recently decided to sell my home that Frank represented me on for the purchase, and I never considered going with anyone else. Once again, Frank gave me great advice on how to get the best deal. Bottom line, he's got years of experience and he knows the market. He's honest and straightforward, and I could trust his advice. Thanks for all the great work, Frank!"
--Josh B., USMC, Murrieta

---
"This was our first home buying experience, and Frank made it so easy and painless. The way he responded to phone calls and the frequency in which he took us out looking at properties made it seemed as if we were his only clients. Frank made us feel like we were part of the family, and we highly recommend him to anyone. Thanks, Frank."
--Ron & Robyn H., USMC, Yucca Valley

---
"Frank has always delivered for us, whether it was being the driving force on a sale, running down issues with tenants, or making the complicated easy. Real turn-key service with a great sense of humor to make it fun."
--Bruce & Mary S., USMC, Temecula






---
"Frank and Lisa were excellent Realtors when we bought our home in 2004. We were first-time home buyers and inexperienced with the process, and Frank was very patient, careful and we always felt that he had our best interests at heart. When we moved out of state in 2011, we chose Frank to be our property manager and he has continued to demonstrate honesty, integrity and the utmost professionalism. Praising Sand to Sea Properties is easy because the simple truth is you earned our deepest loyalty. We know your team is incapable of doing anything other than its very best for your clients. As far as we are concerned, we are your clients for life in the Southern California area.
--Tracy D., USMC, Temecula
---
"We initially hired Frank Delzompo and Sand to Sea Properties to manage our Oceanside home when we moved across the country. He made the process so easy and smooth. He marketed the property beautifully and quickly found us fabulous renters. His knowledge of the area, real estate, law, and the military made him especially well-suited to handle our situation. When our renter's lease ended, Frank helped us weigh our options. His genuine interest in helping us make a prudent decision for our family was evident. Ultimately he helped us list and sell our home quickly and painlessly from across the country. I HIGHLY recommend Frank and Sand to Sea Properties to all my friends in the area, especially military families."
--Tyler & Meghan F., USMC, Oceanside
---
"Extremely knowledgable, friendly and professional. Pleasure to work with and be represented by. He has kept me updated every step of the way and is always on time with his payment disbursements."
--Derrick R., USMC, Temecula
---
"Frank is personable, sincere, direct, and very competent. He is prompt with his communications and takes pride in his service to his clients. It is always a pleasure to work with Frank."
--Kevin B., Attorney, Temecula
---
"Frank was very professional in both helping me find my house 2 years ago for purchase and then to find a tenant now that I have turned it into a rental property. Frank is a great realtor if you are looking for property in the Inland Empire or Twentynine Palms Area."
--Mike K., USMC, 29 Palms
---
"After our tenants left the house in bad condition, we thought it would be very difficult to restore the property to sell it (being that we live overseas, active duty military). We were recommended to Mr. Delzompo by a good friend of mine; it was the best thing that could have happened to us. Even though the process was very long and with a lot of obstacles, Mr. Delzompo was there to assist us with everything;. Mr. Delzompo and his wife Lisa truly went above and beyond. Their knowledge, expertise, responsiveness, and dedication are exceptional; I would definitely recommend them."
--Kristine N., USN, Perris
---
"Frank and his wife, Lisa Delzompo, are in one word OUTSTANDING! I was impressed with his knowledge of the Temecula and Murrieta areas. As he drove me around to over 30 homes to look at he was able to spout out information for the communities wherever we viewed. He was aware of the taxes for the areas and the schools plus an abundance of other information. His resume is very impressive, just ask him! We finally decided on a beautiful 4 bedroom home in Murrieta. I am a Navy Vet and Lisa helped me with my VA loan and to get a great interest rate. Thanks for all your help, Frank and Lisa."
--Alvaro K., Police Officer, Murrieta
---
"Frank has a personal touch with his clients. He continually placed a personal touch with my wife and me by making us feel we were his only client. This made us feel like friends instead of clients. I have and will continue to recommend Frank for those looking for homes in the Inland Empire area."
--Brent D., USMC, Temecula

---
"Frank is by far the best real estate professional that I've dealt with in the last 20 years. He will always look out for your best interests, respond to your inquiries, and give a great effort to negotiate the best deal for you. I've purchased several properties with Frank as the broker agent, and he has managed those properties for me. He is the best around."
--Daren M., USMC, Murrieta

---
"Frank and Lisa are very professional. They made our short sale purchase as stress free as possible."
--Jennifer M., Murrieta
---
"Frank not only helped us purchase our first home in California (which had instant equity as soon as we moved in), he also helped us transition into being landlords when it was time to leave the area. Frank has a very extensive knowledge of the Southern California region and is top notch to deal with whether you're renting, a property manager/landlord or looking to purchase a primary residence or second home, or investing in the real estate market. Frank has a huge network of satisfied clients; he is truly one of the finest professionals I have had the pleasure of working with."
--Jay M., USMC, 29 Palms
---
"Well really there isn't too much to go into detail. My wife and I pretty much had our minds made up on the type of houses we wanted to look at. All we needed being first time buyers was an eye for things to look for *Which they are both INCREDIBLE at* and the knowledge of the area. We put in offers on 11 houses over a 3 week period and we got the house we wanted. There isn't much more we could have asked for!"
--Chris S., USMC, Wildomar
---
"Thank you both so much for all you did for us in getting our home! You were very kind, and we really appreciate all your hard work!"
--Love, George & Anne :-), Murrieta
---
"We were not first time buyers, so this time around we were more cautious about what we wanted and how much we were willing to pay. Frank took our strict guidelines and ran with them. He was readily available, prompt, and regularly took our family 150 miles away to 29 Palms where we were able to find a nice home for the right price. His commitment to our needs and his dedication to research were excellent. We felt like Frank took us through all steps and made us honorary 'paisanos'. If you want a tough talking, go-getter, Frank won't back down to earn your business."
Regards,
--Andy & Denise A., USMC, 29 Palms

---
"I am glad that we found your company. With all the things we had to go through, I am happy we had you there to explain what was happening and to reassure that if this sale fell through that we could find something. Thank you for all your help and patience in answering all our questions and taking the time to explain everything to us. Also, thank you for taking the time to help us find exactly what we were looking for at a price we were both comfortable with. Thank you both very much.
-- Gene, Marcia, & Geoff B., USMC, Menifee
---
"Incredible couple! If you are looking to buy or rent a home, they're the best in the valley! Frank was very professional and his wife Lisa was able to turn a loan around within days of closing escrow after our lender disappeared. Very well prepared with years of experience & knowledge in all aspects of Real Estate, & they were very willing to give their knowledge and advice in buying your home. Feels like family, but still professional."
--Garrett & Itzel R., Firefighter, Murrieta

---
"Frank--Thank you for working so hard for our family. We really can't tell you how much we appreciate all of your time and advice. We definitely couldn't have found a better Realtor. We also want to thank your family for sacrificing time with you. Sincerely,"
--Matthew, Carly, Breanna, Brandon, & Bella A., USMC, Murrieta

---
"Fantastic - Dedicated - Professional! Frank and Lisa are absolutely the best! They stuck with us through a very long and difficult short sale experience. Their patience, understanding, and expertise in the real estate business put my wife and me at ease. Frank walked us through everything and showed extreme patience with us (a first time seller). Without them, we would never have been able to sell our house. I recommend Frank and Lisa to anyone...especially military families. If you are interested in buying or selling a house in the Southern California area, Frank and Lisa should be your first call."
-- Tye & Denise W., Col, USMC, Oceanside

---

"Dear Frank and Lisa,
"Thanks so much for everything! Your combined expertise and knowledge made the purchase of our home a smooth one! Yes, it was stressful at times, but Lisa made sure all documents were compiled and submitted to make sure we weren't delayed any longer. :) We were very pleased with the service provided by both of you! Thank you!"
--Robyn & Alan H., USMC

---
"Frank and Lisa were an awesome team and really helped us through the process. Frank always had our interests in mind, and when the perfect house for us became available, he contacted us right away to get us set up. We took advantage of the exact home we were looking for, and we got it before anyone else had a chance, and it was all thanks to Frank. I would highly recommend them to any person that is interested in real estate."
--Daniel & Yuriko P., USMC

---
"Thank you so much for all your help and support buying and financing our home in Murrieta. The professionalism that both you and Lisa showed through the process was above and beyond. This is not our first home purchase, but it was our best. I was always informed on where we were in the process and problems were handled before I even knew there was a problem. I will most definitely send All my friends and family your way."
--Jennifer & Randy M., Murrieta

---
"Frank is a highly knowledgeable and dedicated professional who was committed to finding us the perfect home. His energy and initiative were unwavering throughout the entire home-buying process. On numerous occasions, even holiday weekends, Frank would take the time to make the long trip to the high desert to view homes with us as if his office was located just down the street. His responsiveness and blue collar work ethic gave us the confidence that is so rarely felt by other prospective buyers in today's market.

"After our initial offer was accepted on a short sale, Lisa took over the financing process, guiding us every step of the way. Her extensive experience and commitment put our minds at ease. Lisa lit the way and cleared the muddy waters by taking the time to answer all of our many questions. We were privileged to have Frank and Lisa on our side. Their aggressiveness and sincerity was our secret weapon in making this short sale purchase an easy one. Thanks, Frank and Lisa, for your hard work and dedication!
"Semper Fi,"
--Mike and Jeana T., USMC, Yucca Valley
"Frank was very knowledgable about real estate in the Yucca Valley area, and was especially helpful with the short sale process. When Frank said he would do something, he really did it! He has great follow-through and I felt that he was giving his all for us throughout this whole process. I would use Frank again! Thank you!"
-- Erika & Todd F., USN, Yucca Valley
[This was a transaction in which we represented both the buyers and the sellers. California law allows a Broker to represent both parties to a transaction so long as both parties consent after full disclosure. We're proud to say that both parties were pleased enough with our service to take the time to submit these testimonials.]

---


"Dear Frank & Lisa,
We sincerely thank you for your tireless help and guidance through our first home buying experience. With every aspect of this process you were quick to respond to our many questions, providing quality and professional service. We appreciate the hard work you put into this and will certainly be passing along our positive experience to our friends (in fact, we already have). We felt that you genuinely had our best interests in mind - plus you secured a great interest rate and how you closed a short sale in less than half the time it typically takes is beyond us! You make a tremendous, efficient team and we are glad to have had you by our side. All the best in your future endeavours. Thanks again!"
--Melanie & Philip S., USMC

---

"Frank & Lisa are truly one of a kind. My husband and I bounced from Realtor to Realtor for over a year until we found the Delzompo's. ...We always recommend them to all my friends and family. 'Til this day I would still be able to ask Frank and Lisa for any advice. They treat their clients like family, just as it should be. Thank you Frank and Lisa for all your time and help!!"
--Ashley & Jordan G., USMC, Lake Elsinore

---
"Dear Mr. Delzompo:
"I would like to place on record my sincere appreciation of the way you conducted business with me with regard to the purchase of my home. It is very rare to find such high standards of sincerity and trust-worthiness in the world of business today. It would be my pleasure to do business with you in the future and I earnestly wish you the very best for the future. Again I thank you for your diligence and superb attitude."
--Robert Y., Vice-Mayor, Hemet CA

---
"Our experience with purchasing homes and properties in the past was not very pleasant. Consequently, we were not looking forward to buying another home. Initially we were going to go with one of the big Realtors until I read in the Navy Times about Frank and Sand to Sea Properties. My wife and I decided to contract with Frank. Who better to understand the whims and whiles of the retired military. Frank made this a most pleasant and enjoyable experience. He showed us more than 20 homes of which we made offers on over half. Many times we thought we had tried his patience, but he always came across for us. Frank is very dedicated towards his work, and shows a lot of professionalism. Lisa led us through the loan process with ease. My wife and I are grateful to Lisa and Frank for their hard work and making this a painless and smooth purchase."
--Malcolm & Sevilla G., U.S. Navy (Ret.), Menifee & Murrieta

---
"Thank you Frank and Sand to Sea Properties in helping us purchase our new home. Frank kept us informed every step of the way and always answered any questions we had. We highly recommend Sand to Sea Properties and would not hesitate to work with Frank again. Thank you, we love our new home."
--Juan & Laura G., GySgt USMC, Temecula

---

"I would like to thank both of you for outstanding service you provided during our recent real estate transaction. I always felt that I received the best assistance from start to finish. You were highly recommended by friends of mine, and now I know why. I will always recommend you to anyone I know that is looking to buy or sell, so that they may receive the same great service I was provided. Thank you again for making the painful process an easy one.
"Semper Fi,"
--Terrance (& Marina) S., 1st Sgt, USMC, Murrieta
***These buyers were able to purchase their home while Marina was deployed in harm's way in Afghanistan. Multiple documents required Marina's signature in order to complete the purchase, and through hard work we made it happen! We're very proud of this transaction and of this testimonial!

---

"Just wanted to let you and Lisa know how pleased we are with the house. Thanks for all the help, your professionalism and expertise truly made the home buying process an easy one for Rebekah and me. Thanks again!"
--John & Rebekah T., USMC

---
"Frank helped navigate a complex HAP process that ended in a successful sale. Thanks for a job well done!"
--Bob G., Capt, USMC, Oceanside

---

"Frank & Lisa--
"Being new to the area, we were a little apprehensive about buying property here. You put us at ease by taking the time to explain every detail. More than anything else, we appreciated you making yourselves available whenever we needed something throughout the process. You truly made us feel we were your only clients."
--Jerry & Jill P., Maj, USMC, Murrieta
---

"We could not be more pleased with the assistance, knowledge, and effort that Frank & Lisa gave us during the process of purchasing our first home. Many times during the sometimes exhausting process they went above and beyond our expectations! Our sincere thank you again to the both of you.
"Semper Fi,"
--Don & Maggy A., MSgt, USMC, Temecula
---

"After eight months in California, we are finally home owners and owe it all to Frank. Not only was Frank the best Realtor and advisor that we could have possibly had, but it is also my pleasure to call him a friend. He really understood everything that we were going through as well as the strains of military life. He put in extensive hours with my wife and me to make sure we were happy. We are very happy with our purchase and very thankful to have found the best Realtor in Southern California."
--Barrett D., Capt, USMC, Temecula
---
"Mr. Frank--
"Thanks for your time and hard work. God bless you and always wish you the best."
--Joseph & Ryoko W., MSgt, USMC, Hemet
---

"On the first offer we submitted, Frank sat down with us and explained everything in the contract, the whole process, and how to determine what price to offer. Throughout the whole process he kept a positive attitude and tried to keep us motivated. At one point we had a bit of a miscommunication that was worked out in a phone call. I think the stress of looking for so long was getting to all of us. All in all it was a very educational experience and we are glad Frank was there to guide us through it."
[These clients submitted almost 40 offers over 5 months during a very unusual, competitive, and sometimes frustrating market for buyers.]
--Bill & Sandy C., GySgt, USMC, Temecula
---

"Dear Frank & Lisa--
"With your assistance, we essentially stole the perfect house for our family....In my almost ten years of buying and selling houses, I cannot recall anyone that stood out; nobody ever went out of their way to ensure we were taken care of. This purchase was different. I felt relaxed and comfortably allowed you both to perform the myriad of tasks required to purchase a home--all the while being continually informed. It eased my mind to know that you two were in our corner. The result of your hard work is a house that we love, an experience that we will not soon forget, and a relationship that will similarly last well into the future. Thank you again."
--Eric M., Capt, USMC, Temecula
---
"Dear Frank & Lisa--
"We were so impressed with our experience with both of you. The professionalism and dedication were amazing! We love our new home and we owe it to you guys. Thank you so much!"
--Chuck & Kara V., USMC, Murrieta
---

"Dear Frank & Lisa--
"We wanted to thank you for your hard work and diligent effort. The level of service that you have given us cannot be matched. We literally cannot thank you more for making our dreams come true! Thanks again for all your late nights, expensive phone calls overseas, countless tanks of gas, and your commitment to getting the job done!!!"
[These clients hunted for their home, purchased it, signed all paperwork, and closed the transaction all while stationed overseas in Okinawa, Japan. How's that for super service?!]
--Tim & Margie M., Capt, USMC, Temecula
---
Frank, Lisa, & Ashlyn (associate agent)--Thank you so much for helping us find a great rental house. Your knowledge of the area is essential to anyone trying to find a new home. We were extremely impressed by how welcomed we felt by all of you, and by how personal this process was for us. It was truly unlike any experience we've had with a Realtor® before, and much needed while we were trying to find a home in a very new place. We would gladly recommend you to anyone looking for a home and will certainly come to you for any of our future home needs. Take care and thanks again!
--Mark, Stephanie, Dylan, & Gavin G., USMC, Temecula
---
"The Delzompo Team is a professional, knowledgable, and dynamic pair. They made our buying experience go smooth, and we felt confident that our family was going to end up with the best possible outcome with the purchase and the loan. We can't thank Lisa and Frank enough for all their hard work, and we have recommended our friends and family to work with them ever since. Thank you very much!!"
Sincerely,
--Philip, Leah, and Gavin P., SSgt, USMC, Temecula
---
"We can't praise Frank enough for helping us buy our beautiful home! Living overseas, we flew to Oceanside, California over the winter holidays. Not only did Frank show us 41 houses, he did it during the busy holiday season. His attention to detail, knowledge, and professionalism made it possible for us to close on a lovely home. He explained the process very well, and dealt with every bump in the road, all with humor and enthusiasm. His recommendation of a title agent was spot on, and Carol was fabulous, getting everything done in a timely manner. We have nothing but good things to say about this fine team and have already recommended Sand to Sea Properties to our friends."
--Michael & Leigh Ann C., USMC, Oceanside
---
"Frank & Lisa provided very prompt and effective service. They explained several complicated matters and assisted us with many little obstacles along the way. We are very happy with our new home and would gladly recommend Sand to Sea Properties to our family and friends."
--Adam & Anna R., U.S. Navy, 29 Palms
---
"This experience with you has been wonderful. I couldn't possibly find the words to adequately describe your level of professionalism and expertise. In spite of Romy being deployed during most of the process, you and Lisa were able to almost seamlessly make this small dream come true....I will definitely be referring my friends and family to you!"
--Christina N., USMC, 29 Palms
---
"Frank and Lisa are a "one stop shop" and make an awesome team. They always make us feel comfortable and at home. We consider Frank and Lisa not only our business partners but our friends! Thanks guys, you did a great job! Semper Fi,"
--Frank & Susie P., GySgt, USMC, Lake Elsinore & Temecula
---
"Melissa and I are so happy with our new home. The best part of the entire home buying process was working with both Frank and Lisa, who were there for us at every step of the way. We truly felt that at all times Frank and Lisa were interested in what was best for us, not just a commission. It was great being able to trust a Realtor and loan officer 100% of the time always to do what's best for us!"
--Brent N., LtCol, USMC, 29 Palms
---
"Frank is very professional and knowledgeable about the real estate market. He puts the client's interests ahead of his own....This is our first home, and we were nervous at the beginning, but he guided us through smoothly. You can't go wrong using Frank as your agent!"
--Xiao & Shuheng W., Temecula
---
"I can't say enough how fabulous Frank and Lisa are. Working long distance with us to find the perfect home for our first house, Frank showed me over 12 different properties and my wife over 16. When we found the perfect place, Lisa took over the loan when we became frustrated with a certain "seafaring credit union" and found us a great loan at a great rate. I've already recommended Frank to some of my friends. Frank and Lisa are the best!"
--Jake G., USMC, 29 Palms
---

"I greatly appreciate the time, effort, and diligence Frank and Lisa put into this real estate transaction. They each went above and beyond my expectations to ensure the process was smooth and enjoyable as possible. Frank was a true perfectionist always staying on top of every detail. Lisa was always available and her persistence ensured the loan was processed in a timely manner. Together they are a fantastic team and they provide exceptional service. This was the second time I had the pleasure of utilizing their service, and I was truly 100% satisfied on each occasion. I would recommend their service to anyone in the market for a home without hesitation."
--Mark S., LtCol, USMC, Poway & 29 Palms
---
"It would be impossible for us to thoroughly convey our thanks to Frank and Lisa. We were referred to them by my husband's Lt. Colonel, in whom we have the utmost respect. That in itself spoke volumes to us, not to mention their impeccable resumes. We couldn't have felt safer in their hands. Frank helped us find the perfect house in no time, and Lisa helped us get financed with a great interest rate! We were initially going to finance with Navy Federal Credit Union, but their rate was higher, and we could never get in touch with their loan broker. We had both Frank and Lisa's personal cell phone #'s, which they even answered during a weekend trip to Disney! I am a person who tends to stress over the smallest of things, and we could not have bought a house on the other side of the country without them."
--Leslie & Ryan L., USMC, 29 Palms
---
"Frank & Lisa worked well with us, even though we were all the way across the country. They showed us over twenty houses in two days. We got the house for 10% less than the asking price, and he even got our pool cleaned for us!"
Thanks guys!
--Ryan & Destiny J., USMC, 29 Palms
---
"I first heard about the Delzompos after expressing to a friend my disappointment with another Realtor....I was convinced to contact Frank. He impressed me immediately. Honest and aggressive, we found a fantastic place at a great price on our first time looking. Thoroughly familiar with the local market and neighborhoods in Oceanside, where I bought, he was the ideal Realtor. I highly recommend him to anyone looking in this area, and especially to active duty military."
--Nick M., Maj, USMC, Oceanside
---
"We went to Frank to help us find our future retirement home. Since the market had changed so much we felt now was the time to buy even though we were not ready to move immediately. It was a big decision for us. We were very picky and Frank showed us many, many houses in Temecula. Frank was very dedicated on checking out each possibility we threw his way. We had a difficult time deciding on a house that was not only in our price range; but that we could picture ourselves in permanently. Frank hung in there and now we are very happy, proud owners of a wonderful home. Thank you Frank for all your hard work."
--Gail & Louie G., Temecula
---
"It is true that Marines are goal oriented. 'Once a Marine, always a Marine.' We came into town and were living at the Temporary Lodge Facility aboard Camp Pendleton. We looked at our first home on July 24th and moved in on August 28th. It must be some sort of record to be able to close a deal in 36 days. Without your dedication to providing us with such attentive service, it never would have happened.
"We are enjoying our new home and neighborhood. We will gladly recommend Sand to Sea Properties to anyone....Your firm is the go-to real estate company in Southern California.
Sincerely,"
--Catherine & Joe B., Col, USMC, Oceanside
---
"Thank you for the assistance you provided our family in the adventure of buying a house from the other side of the country. Your attention to detail and thoroughness were greatly appreciated in ensuring that everything was accomplished to make the deal go through and to give us peace of mind that nothing was being overlooked. Your law, real estate, and loan expertise were very helpful in educating us and assisting us with this sale. We also greatly appreciated the assistance/house-warming gift that you volunteered when things went bad with the loan company that you originally advised us against....Thanks and may God richly bless you and your family.
"In His strength,"
--Jeremiah, Leslee, Clayton, Joy, Kaylee, and Baby, Capt, USMC 29 Palms
---
"Julia and I appreciate all that Frank was able to do for us. Not only did he help us find a beautiful home, he also was able to help us list our current home for rent and get us renters quicker than expected. A true asset to the industry. I know that I will use Frank's services again. Thanks Frank!"
--Daniel L, USMC, Murrieta & 29 Palms
---
"Frank & Lisa-- Thanks so much for a job well done. You listed my home in a very difficult market and worked some very long hours to bring this deal to completion. Your perseverance made this deal possible. Thank you!"
--Cheryl H., Murrieta
---
Thanks Frank! Great job! I'm looking at buying investment property with you in the future.
--Steven H.
---
"Hi Frank & Lisa--Michael and I would like to thank you for all your hard work you have done to get us in the perfect home. You guys did an AWESOME job! We couldn't have asked for anything better. With this being our first home, you made the process a piece of cake and kept us at ease. I never thought twice to call and ask a question, and you guys always had answers. Your professionalism and friendly personality made us feel part of the family. You being USMC retired made us have the trust that you would take the best care of us as clients...and that you did! You guys are a great team and do a wonderful job. We recommend you to everyone."
--Ashlyn & Michael S., USMC, Temecula
---
"We have never met anyone more dedicated to pleasing his clients and to his work. Thank you for all your help and support."
--James & Sunny G.






---
"Frank--Thank you so much for all your fantastic work and help! We could not have hoped for a better experience with you. I am so glad I came across your page and read all the kind words and testimonies from previous clients. You can add our great experience to that list of happy clients as well! We weren't sure how everything would turn out since we had to come in from the East coast and were working with a limited time frame. You gave us exceptional service and were true to your word. I would not hesitate to recommend you to our family and friends whenever they decide to purchase a home. Thank you Frank!"
--Emily & Tom K., USMC, 29 Palms
---
"Frank and Lisa make an excellent real estate team. Lisa's hard work behind the scenes and Frank's professional attitude and persistent hard work made our home buying process easy and enjoyable. I tend to ask a LOT of questions, and Frank always had an answer for me and is thoroughly knowledgeable in his field. Frank's 'out of the box' thinking helped us find a new construction home with 20k+ instant equity as soon as we moved in! I will continue to do business with and recommend the Delzompo team to anyone for their real estate needs."
--Jay M., USMC, 29 Palms
---
"This dynamic duo was wonderful, professionally and personally. Our family relocated from NC and we ran into issue upon issue. Any problem that could happen with a relocation happened to us. Frank handled every issue as if we were his family and was wonderful helping us overcome each issue, via email and phone calls. He eventually got us moved into a wonderful home our family enjoys very much. I'm not sure what the outcome would have been considering the stress level if it weren't for the assistance and compassion of the Delzompo's. Thank you from the bottom of our hearts."
--Stacy & Rich E., USMC, 29 Palms
---
"Frank and Lisa were absolutely fantastic in helping us purchase our very first home. Buying a home in Yucca Valley, California isn't necessarily easy when you are living in Quantico, Virginia and have only three days for house hunting! Lisa kept us updated almost daily with homes on the market and in the 29 Palms area months before our move and was always easy to reach with questions that arose. Then, when we finally did get those three days to house hunt, Frank jumped through hoops to show my wife 26 houses in one single day! As the pressure of buying our very first house mounted, Frank and Lisa eased our minds with facts and figures that we hadn't thought about. We would recommend the Delzompo team to anyone interested in buying or selling a home. They made the transaction as easy and fun as possible!"
--Patrick & Jill L., USMC, Yucca Valley
---
"In our year long adventure to sell our home in Orange County and find a home in Beaumont we were fortunate to find Frank. Our first meeting with Frank was a pleasant surprise. Frank was professional and knowledgeable. Frank worked tirelessly to find the right house at the right price. As time went by we observed that Frank had impeccable ethics and integrity. Frank's energy and friendliness helped put us at ease. Frank and Lisa went above and beyond to make our move possible. We thank them both and would recommend them to anyone buying or selling a house."
--Mike & Carol D., Beaumont
---
"After being friends with Frank for 25 years, it was no surprise that he handled our purchase of investment property with the highest degree of integrity and intelligence. Frank and Lisa helped us buy a beautiful, new fourplex for a fraction of what it would have cost in the San Francisco Bay Area. Best of all, it cash-flowed from the first month. This is the smartest investment we have made in a long time. Thank you Frank & Lisa."
--Chris M., Attorney at Law, & Diane D., Investors, 29 Palms
---
"This team makes an extremely knowledgeable and professional team of Realtors. Although we faced a few challenges in selling our home in Lake Elsinore, Frank and Lisa made it easier for us along the way. They were very caring and understanding of our needs. Frank even helped us to prepare our home for an open house that proved to be successful in the sale of our home. We highly recommend to anyone looking to sell or buy a property to use Frank and Lisa Delzompo.
"Thanks a million Frank and Lisa. It was an absolute pleasure working with you.
"Semper Fi!"
--Frank & Susie P., USMC
---
I first met Frank through a business transaction. I was the "listing agent" representing the seller, and Frank was the "buyer's agent," representing the buyer. Of all the agents I had worked with, Frank was by far the most professional. He is efficient and ethical and keeps a positive outlook at all times! Therefore, when I moved to Austin, TX, I called Frank to list my house and represent me in the sale. He is my hero! I would recommend Frank and Lisa's services to everyone.
--Donelle W., Realtor, Temecula
---
Great job Frank! Could not do it without you.
Semper Fi,
--Jeff G., Investor, 29 Palms
---
When my sister, Rita and I went into this "investment process", it was kind of scary, but Frank made this transaction so easy, it was incredible. He put us in touch with all the right people in order to ease the comfort of this process. If we decide to do this again, we would not use anybody else but Frank! Thanks, Frank!
--Barbara M., Investor, 29 Palms
---
"Thank you so much for all your great work on getting my duplex in Joshua Tree! You handled the difficulties thrown in by others with professionalism and dogged persistence. I have already recommended you to a number of friends. Keep up the great work and positive attitude.
"Best,"
--Laura B., Investor and Family Member
---
Frank and Lisa work tirelessly not only to help find the home that is right for you, but also to help ensure that you are able to buy that home at a wise purchase price. Both Frank and Lisa possess integrity, loyalty, a high level of professional knowledge, and they are very attentive--particularly to the details of contracting and home inspection. This team has my highest recommendation.
--Paul A, USMC, Rancho Bernardo
---
Joy and I want to thank you guys for helping us find our first investment property. In our search for a realtor, we wanted someone who personally does real estate investing and not just sells as a realtor. Frank, you were that man. Your Marine background also indicated to me that you have guts, character and a never- leave-a-client-behind attitude, always returning my calls and never making me feel like a rookie....Again, thank you for listening, and I look forward to working with you in the future.
God Bless!
--John & Joy D., Investors, 29 Palms